Back To Our Services
Garage door springs do most of the heavy lifting, and they generally come as torsion or extension springs. The purpose of a spring is to provided resistance in proportion to the weight of a door. This enables a person or a small motor to raise and lower the door with ease. Garage springs are built to last for approximately 10,000 cycles before they break. They can break prematurely causing potentially extreme hazards. All springs are capable of failing whether or not they are at their maximum or minimum potential energy. Each spring is generally designed to provide 150lbs of resistance. Torsion and extension springs are typically used to reduce the weight of sectional doors, rolling doors, and single piece doors.
Torsion Springs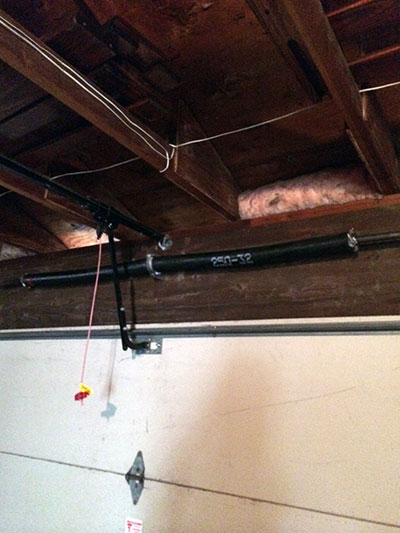 Torsion springs usually sit in a counterbalance system above your garage door, and they provide the torque resistance needed to counter the weight of a garage door. This is done by securing one end of the spring to a fixed source and the other end to a canister which rotates as the door moves. The spring provides torque resistance as the door closes and reduces torque as the door opens. Do you need a garage door torsion spring replacement? We provide calibration, repair, and replacement services for these types of springs.
Extension Garage Door Springs
These springs are located on the sides of the garage door along the track frames. They provide counterbalance resistance to the weight of the door by expanding and contracting. The door pulls on the springs as it closes. The tension of the expanding springs provides proportioned resistance to the weight of the garage door. This makes the door easier to lift. Are you in need of an extension spring repair? We provide calibration, repair, and replacement services for these types of springs.
Spring Servicing and Installation
Our company provides professional garage spring installation services to keep you safe. Messing with torsion and extension springs can be extremely dangerous. Rely on Garage Door Repair Amelia Island technicians to install, repair, and service your springs safely.
Give us a call or send us a message!
Browse our website to learn more about our services.
Back To Our Services